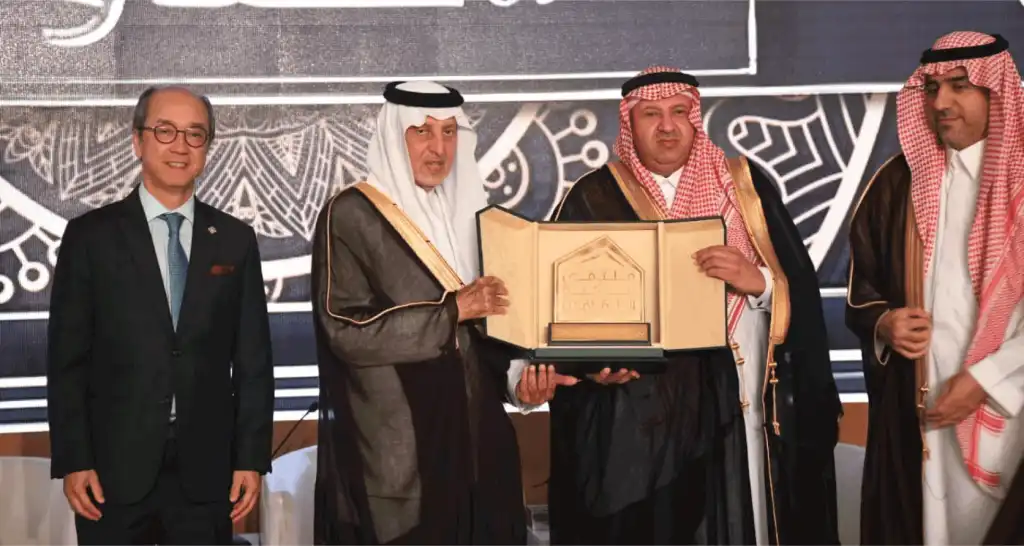 HRH Prince Khalid Al-Faisal Honors AlNahla Group as the Main Sponsor of the Third Edition
of Makkah Cultural Forum
Mr. Yasser Sharbatly receives the honorary shield from the advisor to the Custodian of the Two Holy Mosques, Prince Khaled Al-Faisal, Prince of Makkah Region. The Advisor to the Custodian of the Two Holy Mosques, HRH Prince of Khalid Al Faisal, honored Al-Nahla Group as one of the main sponsors of the award. His Excellency Mr. Yasser Hasan Sharbatly and Mr. Abdullatif Al-Nugali attended Al-Nahla Group award ceremony. H.E. Mr. Yasser Hassan Sharbatly received the memorable plaque from HRH Prince Khalid Al Faisal on behalf of the Board of Directors of Al-Nahla Group The ceremony was attended by HE Dr. Hisham Al-Falih, Deputy Governor of Makkah Region, and HE Dr. Tony Chan, President of King Abdullah University of Science and Technology (KAUST). This appreciation comes in the light of the contributions and support to the community responsibilities offered by the Group to our beloved country, in addition to the continuous contributions of the sons of His Excellency Mr. Hasan Abbas Sharbatly, may Allah have mercy on him.